Congratulations to our 5th year student Adithi Gowda who received a Gold medal and was the overall winner at the Junior Science Olympiad held in DCU last month.
Participation in the Irish Junior Science Oylmpiad is by invitation only. The finalists are selected on the basis of their Junior Certificate Examination results. The State Examination Commission identifies the high achievers in Maths & Science in the Junior Certificate Examination which must include Grade A in Mathematics and Science.
Gold and Silver medal winners will now represent Ireland at IJSO in Arnhem-Nijmegen, The Netherlands in December 2017.
Congrats Adithi, we are extremely proud of you and we wish you every success at the International Olympiad!

                                                                                                                                                               All medal winners 2017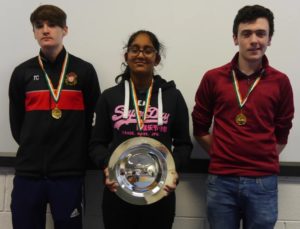 Photo credit: http://castel.ie/olympiads/irish-junior-science-olympiad-2/