Subjects Offered
At Yeats College, we are delighted to be able to offer our students the option of studying the subjects that they have a passion for and that will feature in their future careers.
Students at Yeats College can select their choice of subjects without timetable restrictions. At Yeats College, all subjects are completed within a one year cycle thus allowing students to study subjects for the first time.
| | | |
| --- | --- | --- |
| English | Chemistry | Irish |
| Mathematics | Physics & Chemistry | Applied Mathematics |
| History | Economics | Geography |
| French | Business | Accountancy |
| German | Home Economics | Spanish |
| Agricultural Science | Art | Music |
| Physics | Construction | Biology |
| Design & Communication Graphics | HPAT | |
Facilities
At our campus on College Road, Galway we are pleased to offer students the following facilities:
Fully-equipped science laboratory
Art and technical drawing studio
Fully stocked Home Economics kitchen
Music room (with grand piano)
Construction workshops
Bright, air conditioned study halls
Student restaurant specialising in organic and home cooked food
State of the art gymnasium
Exercise room (aerobics, yoga & tai chi classes)
Grammer School Building Restoration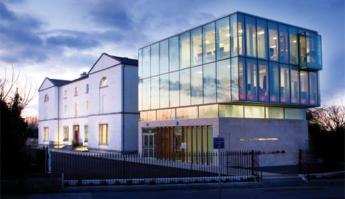 The Erasmus Smith Grammar School on College Road is an important part of Galway's historical heritage.
Designed by famous architect Richard Morrison in 1807, the building had been lying derelict since the departure of NUI Galway in 1993. A careful restoration project began in 2006 and the building has finally been returned to its original glory with the addition of a modern wing. Morrison's vision was to create an outstanding educational environment and this vision has been reinstated by Yeats College through the completion of the restoration project.
The Grammar School building is open to the public during the summer months and many former students and tenants of the grammar school have come back to celebrate the schools return to its original glory. The College encourages visitors to come and appreciate the original design and meticulous restoration of this stunning part of Galway's rich heritage.
Opening Times: Yeats College will be open to the public on weekends from Easter and throughout the months of July and August.